*This post may contain affiliate links, which means I may receive a commission (at no additional cost to you!) if you make a purchase using any of these links.*
It seems too soon, but Valentine's Day is just about two weeks away! Yes, that means it's time to purchase yet another gift for your significant other– or your BFF or mom or whomever. From experience, I know how badly the holidays can strain a bank account, so I've rounded up 28 affordable Valentine's Day gift ideas I promise she'll love, starting at $11. You can click each link or product photo below for item details. Also, since times are tight, I've teamed up with some of my favorite fellow bloggers to host an epic $1000 Nordstrom gift card giveaway! Head to the bottom of this post for details!
Affordable Valentine's Gifts for Her (1-6):
1. Best Friends Donut and Coffee Crewneck Sweater Duo, $15 | 2. Large Love Reversible Tote, $59 | 3. Pink S'Well Water Bottle, $25 | 4. 'Bring Me Pizza and Peonies' Door Mat, $38 | 5. 'Love You, Mean It' Wall Print, $11 | 6. Kate Spade Valentine's Day Crew Socks (Set of Three), $24


Affordable Valentine's Gifts for Her (7-12):
7. BaubleBar Clover Drop Earrings, $38 | 8. Kate Spade Mother of Pearl Heart Watch, $195 | 9. Fresh Rose Face Mask, $62 | 10. Pink Chiffon Pajama Set, $54 | 11. Kate Spade Scattered Hearts iPhone 7 Case, $45 | 12. Heart Shaped Sunglasses, $12


Affordable Valentine's Gifts for Her (13-18):
13. Heart of Gold Mug, $17.50 | 14. Smart Tech Accessories and Cables Case, $50 | 15. 'Save Water, Drink Champagne' Minimergency Kit, $22 | 16. Sugar Tinted Lip Treatment, $24 | 17. Happy Galentine's Day Pillow, $40 | 18. diptyque Roses Candle, $32


Affordable Valentine's Gifts for Her (19-24):
19. BaubleBar Ombre Tassel Drop Earrings, $36 | 20. Burberry Liquid Lip Velvet, $34 | 21. Sugarfina 'Kiss Me' Gummy Lips Gift Box, $7.50 | 22. Kate Spade Heart Dish, $20 | 23. Heart Stud Earrings, $30 | 24. Candy Heart Accent Pillow, $45


Affordable Valentine's Gifts for Her (25-28):
25. Kate Spade Mismatched Drop Earrings, $58 | 26. Red Detachable Bow Pumps, $37 | 27. Pink Heart Banner, $27 | 28. 'Proud Supporter of Messy Hair and Sweatpants' Sweatshirt, $18


And now for the giveaway– With Valentine's Day approaching, I decided to team up with some of my favorite bloggers and bring you a Nordstrom Giveaway. One lucky reader will win a $1,000 gift card to Nordstrom. To enter, please use the widget below.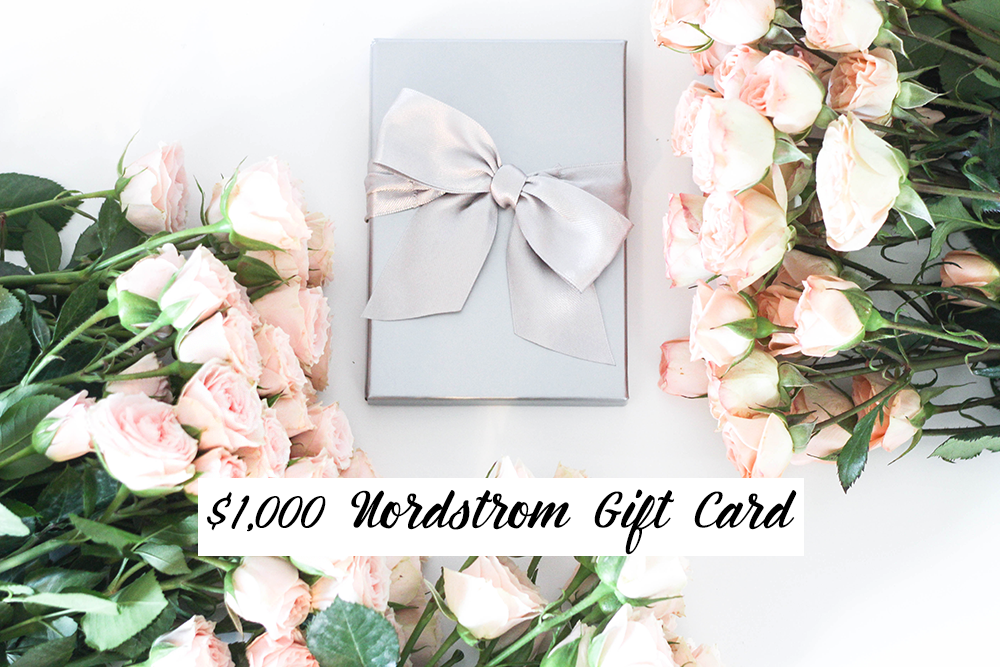 Money Can Buy Lipstick | Mash Elle | Ashley Brooke Nicholas | Diary of a Debutante | Sunshine & Stilettos
Cameron Proffitt | The Styled Fox | A Lo Profile | Visions of Vogue | Inspiration For Moms
The Girl In The Yellow Dress | By Brittani Lauren | A Vintage Splendor | Coming Up Roses | xoxoBella

Style in a Small Town | Sunflowers and Stilettos | Karlie Rae | Audrey Madison Stowe | Nines to 5
Laura Wears | Blush & Blooms | Fashion and Frills | Here's The Skinny | Adored by Alex

Sunsets and Stilettos | Ashley's Passion for Fashion | Coffee Beans and Bobby Pins | Sophistifunk | Life Lutzurious
My Life Well Loved | January Hart | Glitter & Spice | The Blue Hydrangeas | A Gallon of Glitter

Stilettos and Diapers | Styled Adventures | Toreys Treasures | Petite Style Script | Marvelous in the Midwest
You are sure to discover some amazing bloggers you may not already be following! Good luck!
What do y'all have planned for Valentine's Day? Anything fun? I'm trying to think of some non-cliche ideas for me and Kyle, but so far, my creativity has escaped me. Help!